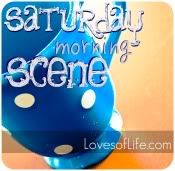 Right now firefighter and I are watching a documentary about Adolf Hitler.. Lovely for a Saturday morning isn't it? He loves the history and discovery and military channels... oy!
We had a slumber party in the living room last night. And this morning I woke up to "Chicago". I love that movie.

No pictures this morning... *sad face*
Hope you all have a great Saturday!!