Linking up again with Katie at Loves of Life for Saturday Morning Scene.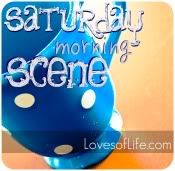 H
ere is what my morning looks like today:
A little Harry Potter and the Half Blood Prince to start the morning off...never a bad thing.
And my i-touch and my doctor's requested "homework" are close by.
Also tending to my sick kitty this morning. She had an abdominal bacterial infection that the vet can't determine how she got. She was at the vet Thursday and over night to Friday afternoon. She was given a 14 day antibiotic shot and is home and recovering. So far she hasn't really been eating on her own, and I have had to give her Pedialyte in a syringe. Not something that either of us enjoy. But I gave her some of her fave wet cat food and she nibbled... good sign! I am worried about leaving her today. We are gonna be gone a long time. (To be honest - there is a part of my that can not wait for today to be over. I am tired just thinking about it. )
Firefighter and I will be going to breakfast soon and then off to the Rays game. I hope they win again today! They really need to get out of their slump and get back to the top of their division.
Have a great Saturday.